Grading
Grades are an assessment of each individual members skills and fitness and are important to the individuals development through the Academy.
All grades include assessment in the following sections:
Kata's .
Throws and takedowns.
Pad work, including punches and kicks.
Combinations including blocks, punches and kicks.
Freestyle (sparring).
Students will be taken through the grading syllabus as laid out below:
Yellow Belt 8th KYU three months after joining.
Orange Belt 7th KYU six months after yellow.
Green Belt 6th KYU six months after orange.
Blue Belt 5th KYU five months after green.
Purple Belt 4th KYU six months after blue.
Brown Belt 3rd KYU six months after purple.
Brown Belt 2nd KYU six months after brown.
Brown Belt 1st KYU six months after brown.
Black Belt first dan twelve months after brown first KYU.
The above grade time scales are a minimum because students are only graded at the Head Coach's discretion.
Having passed a grade examination each student receives the respective belt. Later in the year a trophy and certificate is given out at the Academy's annual presentation evening.
Academy Grades 2019
Yellow Belts, 8th KYU
Evie Bruce
Lacey Bruce
Zac Dawkins
Lucy Denny
Luke Denny
Oscar Duggan
Grace Dunn
Ellie - Mae Heyworth
Rosa Kupisz
Alex Lasek
Jacob Lord
Ernie Malpass
Aiden Parkinson
Zaki Razaq
Maise Searle
Kai Taylor
Theo Wellman
Lola Wilkinson
Orange Belts, 7th KYU
Evie Bruce
Preston Bruce
Logan Collier
Zac Dawkins
Brayden Dearden
Tegan Dearden
Grace Dunn
Ellie - Mae Heyworth
Rosa Kupisz
Jennifer Law
Logan Moran
Ayla Mortimer
Aiden Parkinson
Maxx Patton
Zaki Razaq
Louie Sagar - Kay
Esa Shakeel
Sophie Shakeel
Ben Shaw
Kai Taylor
Green Belts, 6th KYU
Zahra Ali
Evie Bruce
Preston Bruce
Logan Collier
Tegan Dearden
Harris Dobbs
Grace Dunn
Yasmin Evans
Henry He
Vincent He
Ellie - Mae Heyworth
David Kurpeniks
Ayla Mortimer
Harrison Peel
Paige Pilling
Louie Sagar - Kay
Ben Shaw
Adam Tahir
Joseph Wells
Gabriella Wharton
Matthew Wharton
Ava Polly Whitehead
Eva Pixie Whitehead
Ruby Wilkinson
Braxton Windle
Blue Belts, 5th KYU
Zahra Ali
Yasmin Evans
Ramzi Cherif
Tyler Cropper
Henry He
Vincent He
Eleanor Holt
Isobel Holt
David Kurpeniks
Ryley Morton
Taylor Morton
Harrison Peel
Paige Pilling
Adam Tahir
Keevi Talbot
Chloe Wei
Joseph Wells
Gabriella Wharton
Ava Polly Whitehead
Eva Pixie Whitehead
Ruby Wilkinson
Braxton Windle
Purple Belts, 4th KYU
Zahra Ali
Ava Casey
Ethan Casey
Joshua Dutton
Keiran Evans
Caitlin Green
Yuki He
Eleanor Holt
Isobel Holt
Imogen Marshall
Ryley Morton
Taylor Morton
James Reynolds
Adam Rowland
Jack Rowland
Sarah Tahir
Keevi Talbot
Chloe Wei
Vincent Wei
Rhys Wilkinson
Brown Belts, 3rd KYU
Ava Casey
Ethan Casey
Joshua Dutton
Keiran Evans
Caitlin Green
Yuki He
Adam Rowland
Jack Rowland
Sarah Tahir
Vincent Wei
Rhys Wilkinson
Brown Belts, 2nd KYU
Kiera Green
Bradley 'O' Shea
Brown Belts, 1st KYU
Ethan Gourgel
Kiera Green
Jonny Hoyle
Faye Hughes
Eromi Navaratnam
Romeo Navaratnam
Bradley 'O' Shea
Ben Parkinson
Jason Parkinson
Black, 2nd Dan
Harvey Grenfell
Ruby Hoyle
Patrick Hoyle
Idrees Hussain
Kyrah Khan
Mia Woodward
Black, 3rd Dan
Tejay Bacon
Shannon Bacon
Academy Grades 2018
Yellow Belts, 8th KYU
Zahra Ali
Preston Bruce
Logan Collier
Brayden Dearden
Tegan Dearden
Harris Dobbs
Brody Downes
Rory Downes
Yasmin Evans
Faye Green
Theo Hackett
MacKenzie Hanson
Charlie Hart
Rebecca Hawkes
Henry He
Vincent He
Eleanor Holt
Isobel Holt
Thomas Hulme
David Kurpeniks
Jennifer Law
Ricardo Lorenzo
Logan Moran
Ayla Mortimer
Maxx Patton
Harrison Peel
Paige Pilling
Zack Rigby
Louie Sagar Kay
Esa Shakeel
Sophia Shakeel
Ben Shaw
Adam Tahir
Aaron Taylor
Matthew Tischler
Chloe Wei
Joseph Wells
Gabriella Wharton
Oliver Whatmough
Ava 'Polly' Whitehead
Eva 'Pixie' Whitehead
Ruby Wilkinson
Braxton Windle
Riley Woodward
Orange Belts, 7th KYU
Zahra Ali
Ramzi Cherif
Felix Colohan
Tyler Cropper
Harris Dobbs
Keiran Evans
Yasmin Evans
Thomas Grattan
Caitlin Green
James Hawkes
Henry He
Vincent He
Yuki He
Eleanor Holt
Isobel Holt
David Kurpeniks
Kyle Lane
Imogen Marshall
Lola McKnight
Ryley Morton
Taylor Morton
Harrison Peel
Paige Pilling
Alfie Quinn
Adam Rowland
Jack Rowland
Adam Tahir
Sarah Tahir
Keevi Talbot
Aaron Taylor
Chloe Wei
Vincent Wei
Joseph Wells
Gabriella Wharton
Oliver Whatmough
Ava Whitehead
Eva Whitehead
Rhys Wilkinson
Ruby Wilkinson
Braxton Windle
Charlie Woodrup
Faye Green
Green Belts, 6th KYU
Ava Casey
Ethan Casey
Ramzi Cherif
Felix Colohan
Tyler Cropper
Joshua Dutton
Kieran Evans
Thomas Grattan
Caitlin Green
Natasha Hartley
Yuki He
Eleanot Holt
Isobel Holt
Summer Lord
Imogen Marshall
Ryley Morton
Taylor Morton
Alfie Quinn
James Reynolds
Adam Rowland
Jack Rowland
Sarah Tahir
Keevi Talbot
Aaron Taylor
Chloe Wei
Vincent Wei
Oliver Whatmough
Rhys Wilkinson
Blue Belts, 5th KYU
Ava Casey
Ethan Casey
Felix Colohan
Joshua Dutton
Kieran Evans
Caitlin Green
Yuki He
Mary - Kate Law
Summer Lord
Imogen Marshall
Alfie Quinn
James Reynolds
Adam Rowland
Jack Rowland
Sarah Tahir
Vincent Wei
Rhys Wilkinson
Purple Belts, 4th KYU
Keira Green
Amreen Kauser
Bradley O'Shea
Benjamin Rigby
Max Tighe
Brodie Trenbath
Brown Belts, 3rd KYU
Ethan Gourgel
Keira Green
Johnny Hoyle
Haroon Hussain
Michael Lindo
Lewis Love - Ashton
Eromi Navaratnam
Romeo Navaratnam
Bradley O'Shea
Ben Parkinson
Jason Parkinson
Max Tighe
Brown Belts, 2nd KYU
Corey Collins
Hunter Duff
Ethan Gourgel
Johnny Hoyle
Faye Hughes
Dylan Jourey
Lewis Love - Ashton
Eromi Navaratnam
Romeo Navaratnam
Ben Parkinson
Jason Parkinson
Brown Belts, 1st KYU
Brioney Bailey
Corey Collins
Brad Derbyshire
Kaiya Henry - Jones
Kyran Henry - Jones
Jamie Hunt
Robbie Law
Shane Love - Ashton
Lewis O' Neill
Natalie O' Neill
Black Belts, 1st Dan
Brad Derbyshire
Kaiya Henry - Jones
Kyran Henry - Jones
Is - Haaq Hussain
Robbie Law
Shane Love - Ashton
Joe Lynchey
Hallie - Jo Talbot
Zak Tickle
Black Belts, 4th Dan
Academy Grades 2017
Yellow Belts, 8th KYU
Ryan Booth
Ava Casey
Ethan Casey
McKenzie Cashinella
Charlotte Chadwick
Ramzi Cherif
Felix Colohan
Tyler Cropper
Joshua Dutton
Lexie Duxbury
Keiran Evans
Aidan Foster
Thomas Grattan
Caitlin Green
Carrie Hamer
John Hamer
James Hawkes
Yuki He
Joe Houghton
Karmen Houghton
Kyle Lane
Maddison Lazenby
Alexsander Loane
Bethany Lord
Summer Lord
Imogen Marshall
Jack Masson
Lola Mcknight
Connor Jones - Mills
Ryley Morton
Taylor Morton
Luis Nightingale
Brandon Niven
Hannah Niven
Alfie Quinn
James Reynolds
Adam Rowland
Jack Rowland
Dylan Shaw
Sarah Tahir
Keevi Talbot
Max Tighe
Vincent Wei
Rhys Wilkinson
Charlie Woodrup
Ben Young
William Young
Orange Belts, 7th KYU
Ava Casey
Ethan Casey
Joshua Dutton
Keira Green
Amreen Kussar
Mary - Kate Law
Bethany Lord
Summer Lord
Connor Jones - Mills
Jenna Navaratnam
James Reynolds
Benjamin Rigby
Jake Spencer
Luke Spencer
Max Tighe
Brodie Trenbath
Christopher Trickett
William Young
Green Belts, 6th KYU
Keira Green
Amreen Kussar
Mary - Kate Law
Connor Jones - Mills
Jenna Navaratnam
Bradley O'Shea
Benjamin Rigby
Harrison Settle
Jake Spencer
Luke Spencer
Max Tighe
Brodie Trenbath
Christopher Trickett
Adam Whiteman
William Young
Blue Belts, 5th KYU
Ethan Gourgel
Keira Green
Jonny Hoyle
Amreen Kussar
Micheal Lindo
Lewis Love - Ashton
Jenna Navaratnam
Eromi Navaratnam
Romeo Navaratnam
Bradley O'Shea
Ben Parkinson
Jason Parkinson
Benjamin Rigby
Max Tighe
Brodie Trenbath
Christopher Trickett
Purple Belts, 4th KYU
Corey Collins
Hunter Duff
Ethan Gourgel
Jonny Hoyle
Faye Hughes
Haroon Hussain
Dylan Jourey
Micheal Lindo
Lewis Love - Ashton
Eromi Navaratnam
Romeo Navaratnam
Ben Parkinson
Jason Parkinson
Brown Belts, 3rd KYU
Corey Collins
Caitlin Craven
Clara Craven
Harvey Crook
Brad Derbyshire
Hunter Duff
Liam Green
Kaiya Henry - Jones
Kyran Henry - Jones
Faye Hughes
Dylan Jourey
Robbie Law
Shane Love - Ashton
Evie Westwell
Brown Belts, 2nd KYU
Brioney Bailey
Caitlin Craven
Brad Derbyshire
Kaiya Henry - Jones
Kyran Henry - Jones
Jamie Hunt
Robbie Law
Shane Love - Ashton
Brown Belts, 1st KYU
Katy Hamer
Jamie Hunt
Hallie Jo Talbot
Black Belts, 1st Dan
Dominic Coburn
Patrick Hoyle
Ruby Hoyle
Idrees Hussain
Kyrah Khan
Lauren Lynchey
Mia Woodward
Academy Grades 2016
Yellow Belts, 8th KYU
Lewis Ayres
Joshua Baldacckino
George Benjamin
Max Benjamin
Oliver Callan
Alfie Camps
Lucy Camps
Josepn Casey
Jake Fallon
Ethan Gourgel
Kiera Green
Tyler Haworth
Amreen Kauser
Talia Kavanagh
Catherine Law
Micheal Lindo
Fletcher McGrail
Eromi Navaratnum
Jenna Navaratnum
Romeo Navaratnum
Bradley 'O' Shea
Ben Parkinson
Jason Parkinson
Benjamin Rigby
Ethan Sabri
Harrison Sellstrom
Isabelle Sellstrom
Harrison Settle
Liam Sheppard
Jake Spencer
Luke Spencer
Olivia Tomlinson
Brodie Trenbath
Christopher Wiles
Erin Worden
George Young
Orange Belts, 7th KYU
Harvey Bell
Jake Fallon
Ethan Gourgel
Bradley Gray
Tyler Haworth
Jonny Hoyle
Faye Hughes
Jayden Hughes
Talia Kavanagh
Micheal Lindo
Lewis Love Ashton
Eromi Navaratnum
Romeo Navaratnum
Bradley 'O' Shea
Ben Parkinson
Jason Parkinson
Ethan Sabri
Harrison Settle
Olivia Tomlinson
Green Belts, 6th KYU
Corey Collins
Harvey Crook
Hunter Duff
Ethan Gourgel
Aidan Gray
Bradley Gray
Leo Hardman
Tyler Haworth
Jonny Hoyle
Faye Hughes
Jayden Hughes
Haroon Hussain
Talia Kavanagh
Micheal Lindo
Lewis Love Ashton
Eromi Navaratnum
Romeo Navaratnum
Ben Parkinson
Jason Parkinson
Ethan Sabri
Olivia Tomlinson
Blue Belts, 5th KYU
Corey Collins
Caitlin Craven
Clara Craven
Harvey Crook
Brad Derbyshire
Hunter Duff
Aidan Gray
Bradley Gray
Liam Green
Brandon Halstead
Kyle Halstead
Alfie Hayes
Kaiya Henry - Jones
Kyran Henry - Jones
Faye Hughes
Jayden Hughes
Haroon Hussain
Robbie Law
Shane Love - Ashton
Lewis Smaje
Evie Westwell
Purple Belts, 4th KYU
Brioney Bailey
Reece Baylem
Ronan Brogan
Caitlin Craven
Clara Craven
Samuel Darwen
Brad Derbyshire
Liam Green
Alfie Hayes
Kaiya Henry - Jones
Kyran Henry - Jones
Jamie Hunt
Robbie Law
Shane Love - Ashton
Jacob Marshall
Evie Westwell
Brown Belts, 3rd KYU
Brioney Bailey
Katy Hamer
Jamie Hunt
Hallie Jo Talbot
Brown Belts, 2nd KYU
Dominic Coburn
Farrah Coleman
Katy Hamer
Paul Healy
Patrick Hoyle
Ruby Hoyle
Is Haaq Hussain
Kyrah Khan
Joshua Lee
Joe Lynchey
Lauren Lynchey
Alyssa Talbot
Hallie Jo Talbot
Zak Tickle
Mia Woodward
Brown Belts, 1st KYU
Dominic Coburn
Farrah Coleman
Paul Healy
Patrick Hoyle
Ruby Hoyle
Is Haaq Hussain
Kyrah Khan
Joe Lynchey
Lauren Lynchey
Alyssa Talbot
Zak Tickle
Mia Woodward
Black Belts, 1st Dan
Black 2nd Dan
Tejay Bacon
Shannon Bacon
John Crabtree
Academy Grades 2015
Yellow Belts, 8th KYU
Harvey Bell
Corey Collins
Caitlin Craven
Clara Craven
Harvey Crook
Brad Derbyshire
Hunter Duff
Libby Fyldes
Aidan Gray
Bradley Gray
Liam Green
Brandon Halstead
Kyle Halstead
Leo Hardman
Luke Haworth
Kyran Henry - Jones
Jonny Hoyle
Jonny Hoyle
Faye Hughes
Jayden Hughes
Haroon Hussain
Mary - Kate Law
Lewis Love - Ashton
Mia Littlewood
Joel Murphy
Danielle Walker
Evie Westwell
Kaiya Henry Jones
Orange Belts, 7th KYU
Luke Baylem
Reece Baylem
Corey Collins
Caitlin Craven
Clara Craven
Harvey Crook
Brad Derbyshire
Hunter Duff
Libby Fyldes
Aidan Gray
Liam Green
Brandon Halstead
Kyle Halstead
Leo Hardman
Alfie Hayes
Kyran Henry - Jones
Kaiya Henry - Jones
Jamie Hunt
Haroon Hussain
Robbie Law
Mia Littlewood
Shane Love - Ashton
Ruby Roberts
Evie Westwell
Green Belts, 6th KYU
Luke Baylem
Reece Baylem
Ronan Brogan
Kia Cotterill
Caitlin Craven
Clara Craven
Samuel Darwen
Brad Derbyshire
Liam Green
Brandon Halstead
Kyle Halstead
Alfie Hayes
Kyran Henry - Jones
Kaiya Henry - Jones
Jamie Hunt
Robbie Law
Mia Littlewood
Shane Love - Ashton
Jacob Marshall
Oliver Parr
Evie Westwell
Blue Belts, 5th KYU
Luke Baylem
Reece Baylem
Ronan Brogan
Samuel Darwen
Oliver Damer
Olivia Eckersall
Katy Hamer
Jamie Hunt
Jacob Marshall
Rob Sheppard
Hallie Jo Talbot
Purple Belts, 4th KYU
Asher Chicken
Dominic Coburn
Farrah Coleman
Joshua Condliffe
Max Constant
Tor Farrell
Caitlin Flatley
Katy Hamer
Neve Harris - Summers
Paul Healy
Is Haaq Hussain
Kyrah Khan
Joshua Lee
Joe Lynchey
Lauren Lynchey
Alyssa Talbot
Hallie Jo Talbot
Zak Tickle
Mia Woodward
Brown Belts, 3rd KYU
Asher Chicken
Dominic Coburn
Farrah Coleman
Joshua Condliffe
Tor Farrell
Caitlin Flatley
Neve Harris - Summers
Paul Healy
Patrick Hoyle
Ruby Hoyle
Is Haaq Hussain
Kyrah Khan
Joshua Lee
Joe Lynchey
Lauren Lynchey
Alyssa Talbot
Zak Tickle
Callum Westwell
Mia Woodward
Brown Belts, 2nd KYU
Joshua Herstell
Callum Westwell
Brown Belts, 1st KYU
Rizwan Azam
Oliver Condliffe
Ashley Eckersall
Joshua Herstell
Adham Hussain
Idress Hussain
Black Belts, 1st Dan
Kian Grenfell
Harvey Grenfell
Ryan Grogan
Sammi Jay Woodrup
Academy Grades 2014
Yellow Belts, 8th KYU
Kelsie Ashcroft
Kyle Ashworth
Luke Baylem
Reece Baylem
Christain Beetson
Ronan Brogan
Farah Coleman
Adam Collet
Max Constant
Kai Cotterill
Samuel Darwen
Deacon Ellis
Jordan Gatenby
Kieran Hanson
Alfie Hayes
Jamie Hunt
Mohammed Ismaeel
Arnold Kiely
Gabriel Kiely
Robert Law
Shane Love - Ashton
Lauren Lynchey
Jacob Marshall
Oliver Parr
Troy Parr
Oliver Quinn
Bethany Taylor
Emily Willliams
Orange Belts, 7th KYU
Ronan Brogan
Asher Chicken
Dominic Coburn
Farah Coleman
Max Constant
Kai Cotterill
Oliver Damer
Samuel Darwen
Olivia Eckersall
Tor Farrell
Katy Hamer
Neve Harris - Summers
Paul Healy
Corey Ireland
Mohammed Ismaeel
Joe Lynchey
Lauren Lynchey
Jacob Marshall
Ryan 'O' Connor
Oliver Parr
Imogen Siemens
Rob Sheppard
Hallie - Jo Talbot
Bethany Taylor
Thomas Thompson
Zak Tickle
Emily Williams
Cain Woodward
Green Belts, 6th KYU
Asher Chicken
Dominic Coburn
Farah Coleman
Max Constant
Oliver Damer
Olivia Eckersall
Tor Farrel
Caitlin Flatley
Katy Hamer
Neve Harris - Summers
Paul Healy
Is - Haaq Hussain
Joshua Lee
Lauren Lynchey
Joe Lynchey
Ryan 'O' Connor
Imogen Siemens
Rob Sheppard
Alyssa Talbot
Hallie - Jo Talbot
Bethay Taylor
Thomas Thompson
Zak Tickle
Emily Williams
Cain Woodward
Mia Woodward
Blue Belts, 5th KYU
Asher Chicken
Dominic Coburn
Farah Coleman
James Condliffe
Joshua Condliffe
Tor Farrel
Caitlin Flatley
Neve Harris - Summers
Paul Healy
Is - Haaq Hussain
Joshua Lee
Joe Lynchey
Lauren Lynchey
Imogen Siemens
Alyssa Talbot
Thomas Thompson
Zak Tickle
Cain Woodward
Mia Woodward
Purple Belts, 4th KYU
Jayden Crook
Rebecca Heap
Joshau Herstell
Sadiyah Khan
Aston Stott
Callum Westwell
John Westwell
Jack Workman
Brown Belts, 3rd KYU
Kian Crook
Ashley Eckersall
Lewis Heap
Natalie Heap
Rebecca Heap
Joshua Herstell
Adham Hussain
Idress Hussain
Brandon Love
Aston Stott
John Westwell
Brown Belts, 2nd KYU
Rizwan Azam
Oliver Condliffe
Jack Eckersall
Harvey Grenfell
Dominic Phillips
Lewis Heap
Kian Grenfell
Ryan Grogan
Idress Hussain
Kian Crook
Natalie Heap
Ashley Eckersall
Harry Hart
Adham Hussain
Sammi - Jay Woodrup
Brown Belts, 1st KYU
Jack Eckersall
Harvey Grenfell
Kian Grenfell
Ryan Grogan
Harry Hart
Dominic Phillips
Sammi - Jay Woodrup
Black Belt 1st Dan
John Crabtree
Ashley Graeves
Tejay Bacon
Shannon Bacon
Black Belt 3rd Dan
Academy Grades 2013
Yellow Belts, 8th KYU
Rachel Barratt
Connor Brittain
Tyler Brittain
Callum Carter
Nyesha Carter
Asher Chicken
Dominic Coburn
Lewis Crossthwaite
Oliver Damer
Olivia Eckersall
Tor Farrel
Caitlin Flatley
Neve Harris Summers
Paul Healy
Christopher Heap
Roger Heap
Louis Heywood
Mackie Heywood
Corey Ireland
Gage Ireland
Katy Hamer
Kuba Kuzminski
Joshua Lee
Joe Lynchy
Finaly Maguire
Ryan 'O' Connor
Joanne Remis
Alex Sagar
Imogen Seimens
Rob Sheppard
Aston Stott
Alyssa Talbot
Hallie Joe Talbot
Thomas Thompson
Zak Tickle
Cain Woodward
Mia Woodward
Orange Belts, 7th KYU
James Condliffe
Joshua Condliffe
Jayden Crook
Caitlin Flatley
Roger Heap
Joshua Herstell
Louis Heywood
Mackie Heywood
Is Haaq Hussain
Joshau Lee
Lewis Smaje
Aston Stott
Alyssa Talbot
Mia Woodward
Green Belts, 6th KYU
James Condliffe
Joshua Condliffe
Jayden Crook
Lee Grenfell
Rebecca Heap
Roger Heap
Joshua Herstell
Che Lord
Brandon Love
Jack Mounsey
Lewis Smaje
Aston Stott
Callum Westwell
John Westwell
Blue Belts, 5th KYU
Brioney Bailey
Jayden Crook
Kian Crook
Lee Grenfell
Lewis Heap
Natalie Heap
Rebecca Heap
Joshua Herstell
Adham Hussain
Idress Hussain
Brandon Love
Aston Stott
Ieuan Taylor
Callum Westwell
John Westwell
Purple Belts, 4th KYU
Rizwan Azam
Oliver Condliffe
Kian Crook
Ashley Eckesall
Jack Eckersall
Harvey Grenfell
Kian Grenfell
Ryan Grenfell
Harry Hart
Lewis Heap
Natalie Heap
Adham Hussain
Idress Hussain
Brandon Love
Dominic Phillips
Liam Priestley
Joseph Stevens
Ieuan Taylor
Sammie Jay Woodrup
Brown Belts, 3rd KYU
Rizwan Azam
Oliver Condliffe
John Crabtree
Jack Eckersall
Harvey Grenfell
Kian Grenfell
Ryan Grenfell
Harry Hart
Dominic Phillips
Liam Priestley
Joseph Stevens
Maja Strawinska
Sammie Jay Woodrup
Brown Belts, 2nd KYU
Brown Belts, 1st KYU
Shannon Bacon
Tejay Bacon
John Crabtree
Ashley Greaves
Academy Grades 2012
Yellow Belts, 8th KYU
Brioney Bailey
Kameron Brown
Billy Brown
Kian Crook
Ashley Eckersall
Billy Edge
Cameron Greenwood
Lewis Heap
Natalie Heap
Is - Haaq Hussain
Chris Ireland
Zack Jackson
Jack Mounsey
Arran Ryan
Ieuan Taylor
Keera Taylor
Rory Taylor
Callum Westwell
John Westwell
Keiron Wood
Teigan Woodrup
James Condliffe
Joshua Condliffe
Jayden Crook
Lee Grenfell
Rebecca Heap
Callum Heaps
Joshua Herschell
Jaydon Hoyle
Joseph Jepson
Che Lord
Georgina Mellor
Maddison Mellor
Lewis Smaje
Chris Windle
Orange Belts, 7th KYU
Rizwan Azam
Billy Brown
Oliver Condliffe
Kian Crook
Ashley Eckersall
Leah Flatman
Victor Goldsby Keeling
Harvey Grenfell
Kian Grenfell
Ryan Grenfell
Harry Hart
Lewis Heap
Adham Hussain
Idrees Hussain
Chris Ireland
Alisha Khan
Kyrah Khan
Sadiyah Khan
Kaide Loney
Liam Priestley
Joseph Stevens
Keera Taylor
Tyler Wain
Keiron Wood
Sammie Jay Woodrup
Teigan Woodrup
Brioney Bailey
Kameron Brown
Billy Edge
Lee Grenfell
Natalie Heap
Rebecca Heap
Zack Jackson
Che Lord
Jack Mounsey
Arran Ryan
Ieuan Taylor
Matthew Thomas
Callum Westwell
John Westwell
Rory Taylor
Green Belts, 6th KYU
Rizwan Azam
Oliver Condliffe
Leah Flatman
Harvey Grenfell
Kian Grenfell
Ryan Grenfell
Harry Hart
Alisha Khan
Kyrah Khan
Sadiyah Khan
Kaide Loney
Dominic Phillips
Liam Priestley
Joseph Stevens
Sammie Jay Woodrup
Victor Goldsby Keeling
Brioney Bailey
Billy Brown
Kian Crook
Ashley Eckersall
Lewis Heap
Natalie Heap
Adham Hussain
Idrees Hussain
Ieuan Taylor
Matthew Thomas
Kieron Wood
Teigan Woodrup
Blue Belts, 5th KYU
Leon Casey
Dylan Jourey
Elle Radcliffe
Mark Turner
Rizwan Azam
Oliver Condliffe
Jack Eckersall
Leah Flatman
Harvey Grenfell
Kian Grenfell
Ryan Grenfell
Harry Hart
Alisha Khan
Kyrah Khan
Sadiyah Khan
Dominic Phillips
Liam Priestley
Joseph Stevens
Sammie Woodrup
Purple Belts, 4th KYU
Brown Belts, 3rd KYU
Tejay Bacon
Shannon Bacon
Connor Jones
Mark Turner
Brown Belts, 2nd KYU
Tejay Bacon
Shannon Bacon
Connor Jones
Mark Turner
Ashley Greaves
Academy Grades 2011
Yellow Belts, 8th KYU
Rizwan Azam
Zara Pugh
Leah Flatman
Victor Goldsby Keeling
Harvey Grenfell
Kian Grenfell
Ryan Grenfell
Luke Butler
Harry Hart
Jack Eckersall
Dylan Jourey
Sammie Jay Woodrup
Kaide Loney
Ruby Nolan - Sant
Kye Loney
Adham Hussain
Idrees Hussain
Alisha Khan
Kyrah Khan
Sadiyah Khan
Leon Casey
Oliver Condliffe
Dominic Phillips
Charleigh Pilling
Jay Pilling
Megan Pilling
Dianna Radcliffe
Elle Radcliffe
Dave Sant
Josh Simikin
Marcus Simikin
Matthew Thomas
Mark Turner
Harvey Wademan
Steve Whiteman
Joe Morris
Liam Priestley
Joseph Stevens
Tyler Waine
Karl Nolan Sant
Taylor Thompson
Leah Nolan Sant
Ryan Nolan Sant
Orange Belts, 7th KYU
Dominic Phillips
Dianna Radcliffe
Leon Casey
Dylan Jourey
Mark Turner
Harvey Wademan
Luke Butler
Jack Eckersall
Karl Nolan Sant
Leah Nolan Sant
Ryan Nolan Sant
Elle Radcliffe
Dave Sant
Green Belts, 6th KYU
Jack Eckersall
Karl Nolan - Sant
Leah Nolan - Sant
Ryan Nolan - Sant
Elle Radcliffe
Lincoln Roach
Aaron Butler
Luke Butler
John Crabtree
Cameron Sheridan
Matthew Turner
Leon Casey
Dylan Jourey
Mark Turner
Harvey Wademan
Blue Belts, 5th KYU
Lincoln Roach
Aaron Butler
Luke Butler
Shannon Bacon
Tejay Bacon
John Crabtree
Connor Jones
Matthew Turner
Purple Belts, 4th KYU
Tejay Bacon
Shannon Bacon
Matthew Turner
Connor Jones
John Crabtree
Black Belts, 2nd Dan
Chloe Love
Shannon Priestley
Sarah Lennon
Charlotte Fagg
Dave Cross
Jamie Lee Kershaw
Declan Bailey
Academy Grades 2010
Yellow Belts, 8th KYU
Caitlin Craven
April Howe
Lee Taylor
Josh Mawdsley
Lincoln Roche
John Crabtree
Aaron Butler
Matt Turner
Cameron Sheridan
Orange Belts, 7th KYU
Shannon Bacon
April Howe
Lee Taylor
Josh Mawdsley
Lincoln Roche
John Crabtree
Aaron Butler
Matt Turner
Cameron Sheridan
Tejay Bacon
Connor Jones
Bradley Nixon
Jake Nixon
Andrew Parkinson
Green Belts, 6th KYU
Shannon Bacon
April Howe
Lee Taylor
Tejay Bacon
Connor Jones
Jake Nixon
Bradley Nixon
Andrew Parkinson
Academy Grades 2009
Yellow Belts, 8th KYU
Martina Hall
Megan Sabri
Sophie Pilling
Chloe Pilling
Shannon Bacon
William Bartrick
Teejay Bacon
Bradley Nixon
Jake Nixon
Connor Jones
Andrew Parkinson
Harry Holden
Zoe Crilly
Georgina Duggan
Lisa Shackleton
Josh Hopkinson
Andrew Aspinall
Lisa Lafferty
Fiona Pilling
Orange Belts, 7th KYU
Faye Craven
Harry Holden
Jack Tighe
Luke Harris
Josh Weldon
Jacob Weldon
Lisa Lafferty
Fiona Pilling
Green Belts, 6th KYU
Faye Craven
Harry Holden
Jack Tighe
Luke Harris
Josh Weldon
Jacob Weldon
Lisa Lafferty
Fiona Pilling
Black Belt 1st Dan
Charlotte Fagg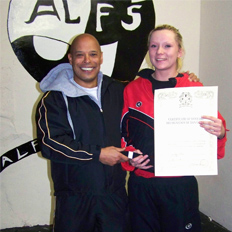 Black Belt 1st Dan
Gemma Clifton
Black Belt 1st Dan
Shannon Priestley