History
Alf's Blackbelt Academy was originally founded as "Stacksteads Freestyle" back in 1991 by Alf Love, initially family and friends attended lessons but it wasn't long before the membership grew as word spread across the Rossendale Valley. The lessons were held in the church hall on Brandwood Road in Stackstead's but in 1995 we were forced to move because the local brownie pack who shared the same premises made complaints about the noise.
For a short period we trained in a room above the Riverside Cafe at the Tollbar in Stackstead's eventually moving up a couple of floors into Unit Y within the Tollbar Business Park which overtime became our home for a considerable period. The club at this time was affiliated to the BMA association but left due to issues with licences to join Shorai International who we are still with today. Joe Tierney the president of Shorai is one of the most respected martial artists in the world and has become a true friend to Alf and the academy and we are extremely proud to be in his organisation.
The clubs very first international trip was with Shorai International to Niagara Falls, Canada in 1996 where twelve students attended a training camp for a week before competing in what at the time was Canada's largest martial arts event, the "DOUVRIS CLASSIC". The club enjoyed instant success with Mick Waters winning his semi-contact division. This was very much a significant turning point for the club as we became in years to come a major force at national and international kickboxing events worldwide.
Alf changed the club name to 'Alf's Blackbelt Academy' in 1995, a year later we attended our first World Championships events in Denmark and Canada and in the year that followed we had our first World Champion in 'Scott Love' who won in light contact. Since that momentous day in 1999 we have continued to successfully represent England at World Championship events returning annually with a mix of Gold, Silver and Bronze medals.
In 2005 the academy achieved what was at the time its best ever medal return at a world championships when eleven fighters won a total of fifteen world championship medals, including Dan Williams and Declan Bailey with three gold medals each making the club the most successful to represent England that year. This prompted a television appearance on BBC's Look North West programme.
In January 2008 the decision was made to form a committee. In the years to follow this proved to be an inspired decision in respect of the development of the academy and what it had to offer the people of Rossendale and the surrounding areas. The committee led by Nigel Fagg as Club Secretary and parents of some students along with Alf himself took control of how the academy was run both financially and operationally, setting objectives to take us in the right direction in improving our facilities, raising the profile of the club within the local community and significantly increasing the membership part of this process included the launching of our uniquely designed website later that year.
2010 saw Alf represent the North West region at the Daily Mirror 'Pride of Britain' awards having won the Granada Television area event in the 'Feeling Good Category', as a result Alf made his second regional television appearance in five years and was extremely close to appearing on National Television missing out by the narrowest of margins at the main event held at London's Grosvenor Hotel.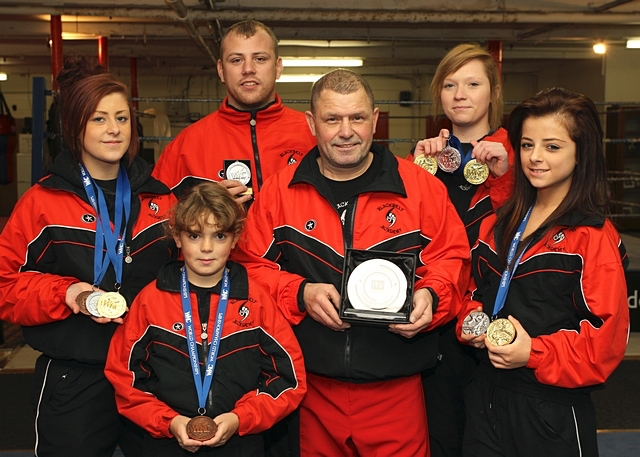 As we entered a new decade In 2011 the real efforts of having a committee started to bear fruit with us purchasing our very own minibus and soon after introducing the school run, collecting children from two local schools and fetching them to the club for classes every weekday. With the help of ASDA we were able to install a state of the art heating system in our facility in September and also refurbish the male and female changing rooms making a huge difference to the training environment for our members.
Alf was presented with a 'lifetime achievement award' at the Rossendale Sports Awards and a 'highly commended award' at the Lancashire Sports Awards in recognition of the 20 years he has been teaching martial arts to the hundreds of people who have attended his classes at the academy
Whilst all this was going on our students were still competing regularly at National and International events. At the world championships Chloe Love, the clubs most successful competitor won her tenth consecutive world championship light contact title at the age of seventeen. Shannon Priestley won her sixth consecutive world championship title in light contact and Charlotte Fagg replicated the feat of Dan Williams and Declan Bailey in 2005 by winning individual golds in both light contact and semi contact and also winning a third gold in the junior girl's team semi contact event with Chloe. The academies four fighters competing at the championships had an amazing medal return of seven golds, one silver and one bronze.
2012 saw the introduction of Taekwondo into the Olympics, whilst this is no doubt a step in the right direction for martial arts it will be a long time before we see kickboxer's competing for Olympic gold. The academy however still managed to get involved in what is 'The Greatest Sporting Event on Earth' with Sensei Alf Love running with the Olympic flame on what was a horribly wet day in Garstang, Alf was thrilled to be nominated as one of 8,000 torchbearers who ran the torch the length and breadth of the British Isles and was joined on his historic run by many of the academies students.
In the same year the academies students made history with fourteen competitor's smashing the previous academy record in bringing a total of thirty two medals back from the world championships in Montreal, Canada. Amongst the medallists were Chloe Love winning her eleventh consecutive world title in light contact and Charlotte Fagg who won three gold's and two bronze medal's to become the only student to win individual world titles in both Light and Semi Contact divisions for three consecutive years across different age categories and the only student to return from a single World Championship with five medals.
In March 2013 we started lessons twice weekly in Ramsbottom giving the opportunity for more people to benefit from our lessons, several of the students who started with us back then have continued their martial arts journey becoming black belts in 2017. Later in 2013 our students competing in Cyprus broke the previous total for the number of golds won at a single championship's by winning thirteen golds amongst them were Shannon & Tejay Bacon who were crowned double World Champions.
Spring 2014 saw us relocate into our present home by moving down a couple of floors down to Unit N which has proved to be a far more suitable facility designed specifically for our needs with a separate Fitness Suite and an area for parents to sit and enjoy a drink whilst their children participate in lessons. Additionally we enhanced our coaching team adding further instructors, all of whom have come through the academies grading syllabus and have a wealth of experience in competing at the highest level a year later we purchased a second minibus to help us with transporting students to tournaments and also allow us to collect from more local schools.
2015 saw the academies students smash the previous gold medal total won at a single world championships of thirteen in Cyprus when they won a remarkable eighteen golds at the championships in Orlando, Florida. Two young ladies contributing significantly to that total were Mia Woodward and Kyrah Khan who both went undefeated the entire week winning gold in both individual and team events to become the academies first ever quadruple world champions, Mia started her World Championship journey the previous year winning both her individual disciplines at the age of 9 to become our youngest ever double World Champion.
In 2016 our students were responsible for the academies best ever performance at a World Championships where they won a total of 33 medals eclipsing the total won in Canada back in 2012 and smashing the total gold medals won at a championship by winning an amazing 22 gold medals.
Making a major contribution to the gold medal tally were Mia Woodward and Chloe Love who both won four golds each along with Ruby Hoyle, Alyssa Talbot and Kyrah Khan who won three each. Mia's feat of registering back to back quadruple wins at World Championship events is a truly remarkable achievement however the moment of the championship and a significant milestone in our academies history came with Chloe Love winning her 14th consecutive World Title in light contact and also winning the academies hundredth gold medal.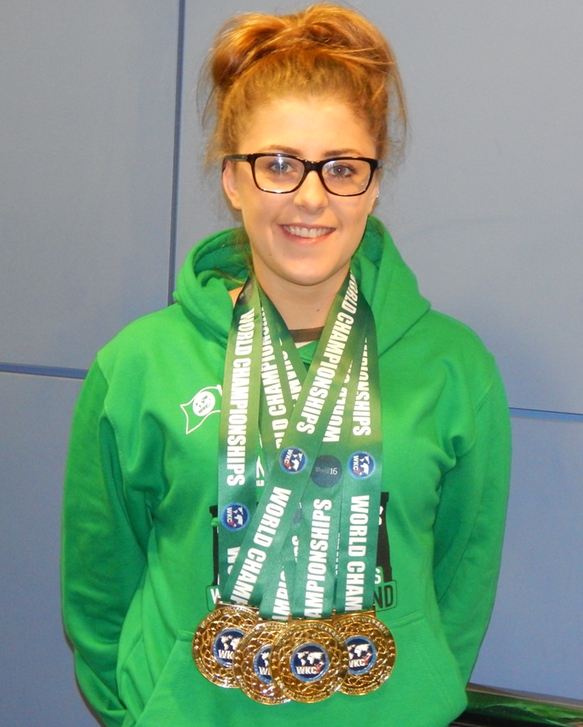 Later in 2016 key members of the academies committee were presented with awards at the MAI Hall of Fame dinner in recognition for the volunteer work they have done for the academy over the years , awards also went to Chloe Love, Charlotte Fagg and Tejay Bacon.
2017 saw us celebrate our 25th anniversary year with a special Night of the Champions show at St Marys Chambers in Rossendale, many World Champions from the past and present attended the event in which we recognised our sport in the best way possible by showcasing some of the best fighters in the world.