Upcoming Events
Saturday 22nd June ' Grading Day for Coloured Belts ' @ Our Academy
Grading day for coloured belts will be on the above date, information on those students who will be grading and their respective grading times will be advised by letter and posted on the academies noticeboard by the end of May. PLEASE NOTE STUDENTS WILL NOT BE PERMITTED TO GRADE UNLESS THE CONDITIONS OUTLINED IN THE GRADING LETTER HAVE BEEN MET IN FULL.
Saturday 29th June 'BCKA European Invitational' @ Corby
We have received our usual invitation from our good friends at BCKA for our fighters to compete at the BCKA EUROPEAN INVITATION CHALLENGE CUP, there will be clubs attending from Germany, Ireland, Scotland along with several from England at what is a strictly invitation only event. This is a pre - registration event, all details on divisions are listed behind the poster below. We will be leaving the academy at 5.45am prompt to travel to the venue where the doors open at 9.00am with a scheduled start time of 10.00am..
We will be stopping overnight after the competition at a Travelodge in Thrapston then returning from there on Sunday morning. The cost for people staying in the Travelodge will be £20 per person and is based on three or four people sharing a room. Some of you may prefer to return home on Saturday if so you will need to make your own travel arrangements.
All those competing need to pre-register for this event the deadline for all pre registration entries is Friday 14th June. Entry fees are £15 per division spectators will be required to pay the £5 admission fee on the day.
Both spectators and fighters who do not want to stopover will have to make their own travel arrangements and must indicate their intentions by ticking the box marked own way on the sheet at the academy.
This is a bronze rated event open to all students, those wishing to compete MUST ENSURE when completing the details on the sheet that they are correct especially the weight and category details. PLEASE REMEMBER THE DEADLINE IS FRIDAY 14th JUNE.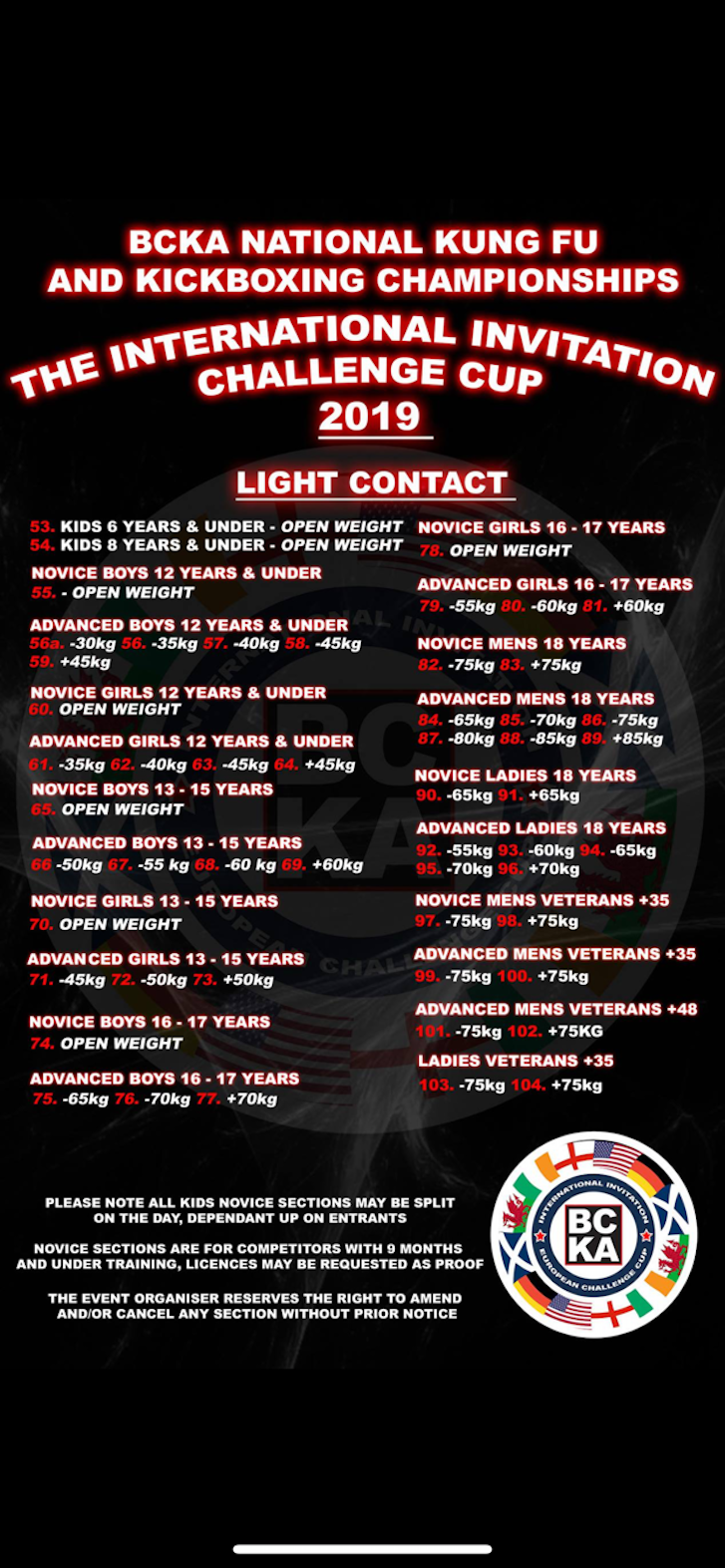 Saturday 6th July 'BAG PACK' at TESCO - HASLINGDEN
We will be doing a bag pack at Tesco Haslingden on Saturday 6th July, we will be in store from 10.00am until 4.00pm and will operate with an AM and PM packing team, details of the timing for these are detailed below.
· AM Packing Team operate 10.00am until 1.00pm to be at the academy for 09.30am or at the store for 10.00am
· PM Packing Team operate 1.00pm until 4.00pm to be at the academy for 12.30pm or at the store for 1.00pm.
If you want to help then please put your name on the list at the academy, stating if you are doing am or pm, and whether you are going direct to the store or want to be picked up at the academy.
EVERYONE HAS TO BE IN CLUB KIT AND SMART, REMEMBER YOU ARE REPRESENTING THE ACADEMY. NOTE ACADEMY HOODIES ARE NOT TO BE WORN DUE TO THEM HAVING ASDA ON THEM
Saturday 13th July 'IPPON SHOWDOWN' at the YORK UNIVERSITY
This show being staged at the magnificent Central Hall in York University starts at 2pm and is in two sections, with an afternoon and night show. The show only involves intermediate and advanced fighters and at present we have Kyrah Khan, Tejay Bacon, Mia Woodward, Patrick Hoyle, Harvey Grenfell, Ruby Hoyle and Romeo Navaratnam definitely competing with the potential for Bradley 'O' Shea , Kaiya and Kyran Henry – Jones to also be appearing on the bill.
There will be a fully licenced bar but there may well not be any food available, this is yet to be confirmed.
This is a ticket only event, there are three types of ticket available all will admit the bearer to the entire show. Tickets are now available from the academy priced as follows; £30 V.I.P (Matside Seat), £25 standard seat, £20 for under 16's (junior) seat. Please note that £5 of your ticket price will go towards the Worlds Fund which is raising money towards the cost of our students competing at the 2019 World Championships.
Our fighters really need as much support as possible so if you want to purchase tickets please leave your money and details of the type of tickets you need and who they are for, we will then get your tickets to you. Remember that £you're your ticket price is going to support the cost of our fighters going to the Worlds.
Friday 26th July - Sunday 28th July WKO Open World Championships 'BARNSLEY'
You are invited to enter the WKO Open Championships being held at the Metrodome in Barnsley over three days in July.
All competitors are required to weigh in and register on Friday 26th July, the registration includes a licence check and medical check for anyone competing in Full Contact. If you fail the medical/registration you will not get refunded your entry fee.
With the close proximity of the venue and to avoid accommodation costs we will be operating the minibuses each day to the event from the academy with the following departure times...
Friday 26th July 4pm
Saturday 27th July 7.30am
Sunday 28th July 8.00am
All those competing need to pre register for this event, the *deadline for pre registration entries is Friday 12th July. *Please note spectators do not need to pre register as they will pay the £20 three day sdmission for the entire tournament on the day they first attend. It is not essential for parents to go to the weigh in on Friday.
The event schedule and division list is posted on the academy noticeboard, entry fees are £45 for the first division and £25 for any additional ones. With this being a World Championship event only Silver & Gold rated students will be able to compete, if you are unsure of your rating contact Alf.